CELEBRATING
40 years in business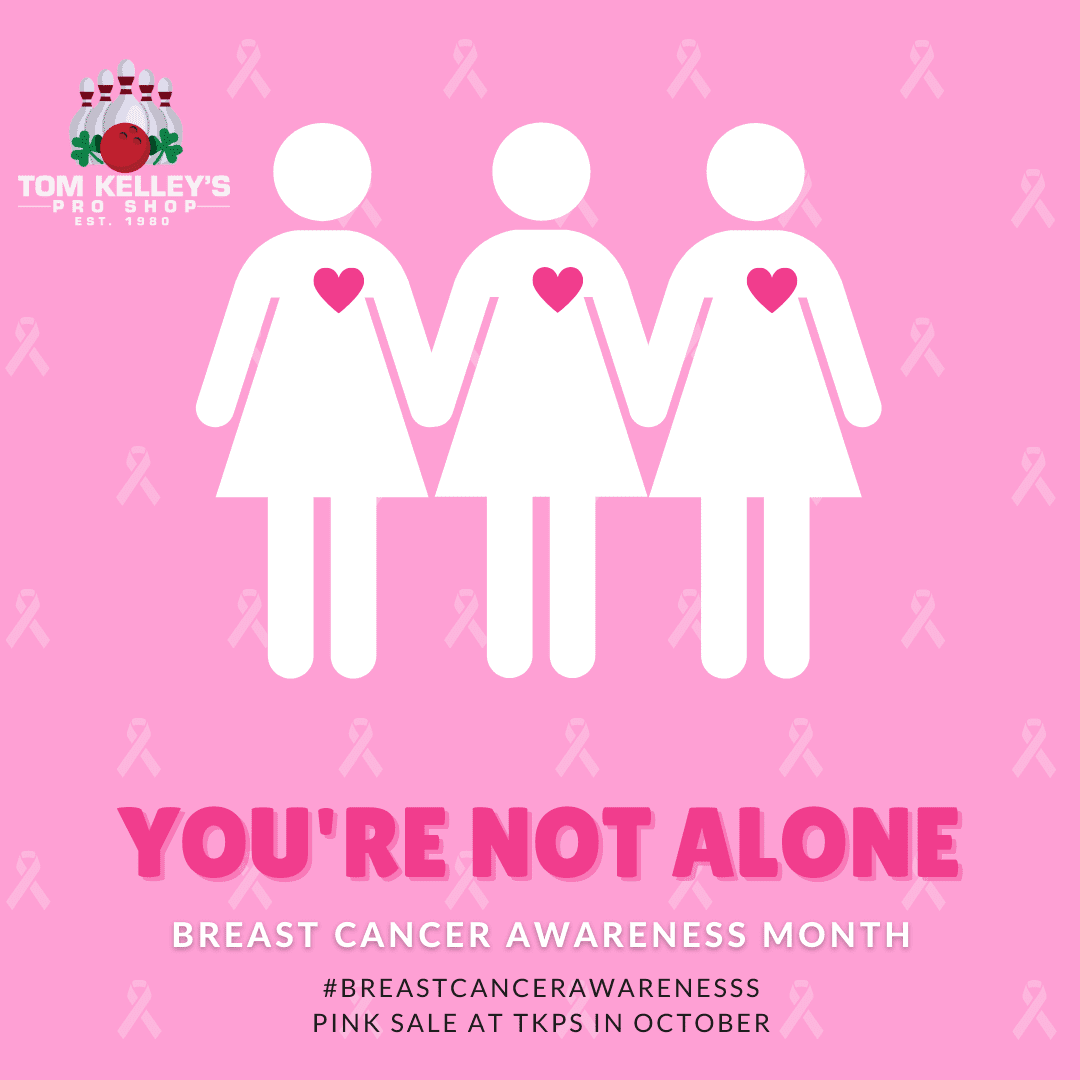 For Breast Cancer Awareness Month we are giving 10% off all items that have pink on them!
KR Single Cruiser, Columbia Icon

Ebonite Single Transport

KR Double Cruiser pink

Ebonite Eclipse double

3 Ball KR Fast

Single Bag Storm Deluxe

Tropical Surge Storm

Pink Hammer Black Widow

Basic Single Bag Ebonite

KR Fast Single Bag

DV8 Diva 2 ball bag

Robbys No Wet Foot Shoe Covers Pink

Pink Fuzzy Shoe Covers

Pink Brunswick Versa

Jenna 2 Dexter
All while supplies last and on in-stock items only.  Available on new purchases only from 10/1/20-10/31/20.
Available on in-stock and on select NFL bags only.
We are excited to be celebrating our 40th year in business. During the week of August 10th we gave away lots of free bowling equipment and raffled off our grand prize! We appreciate everyone's support over the decades!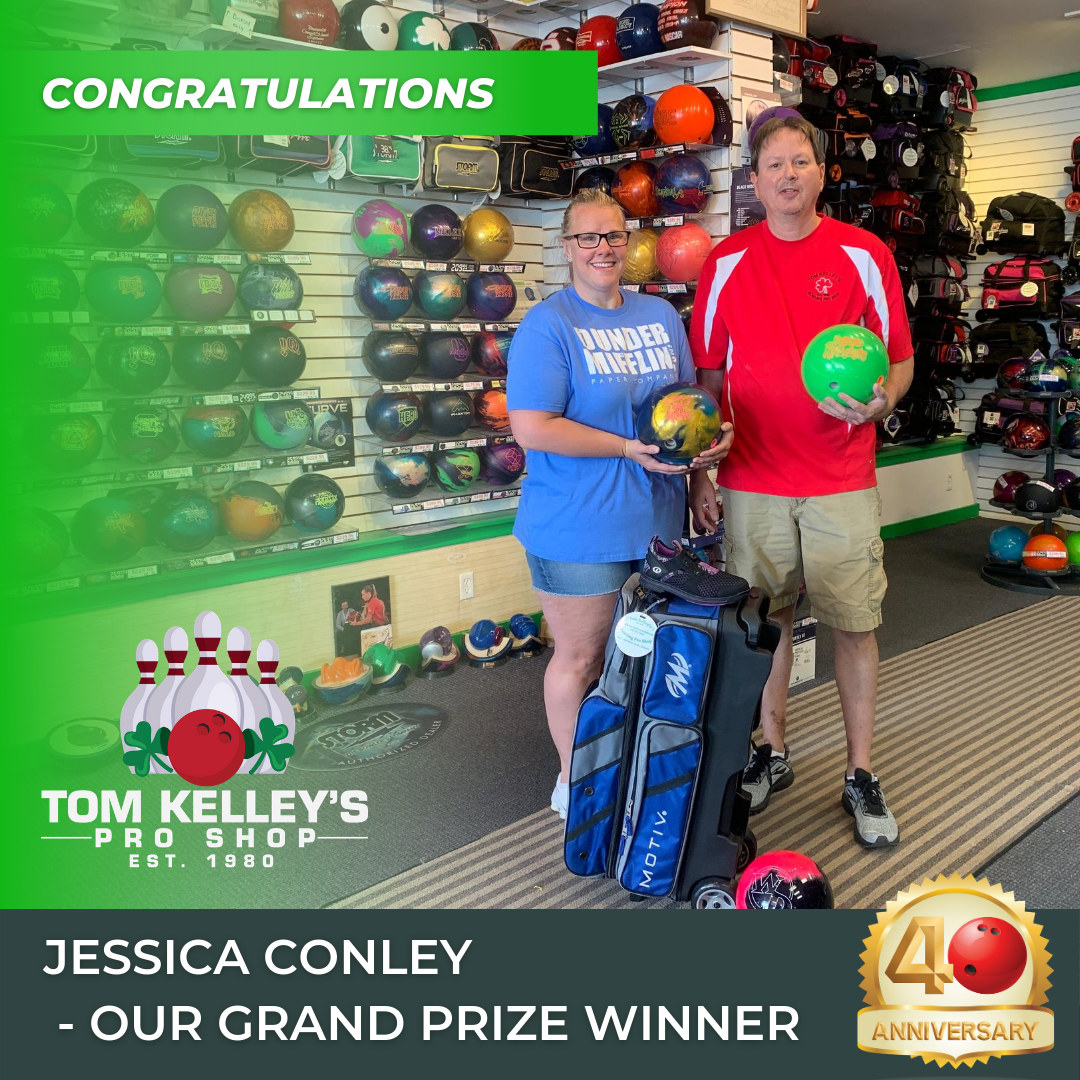 | | |
| --- | --- |
| Monday | 9:00 am - 5:30 pm |
| Tuesday | 9:00 am - 5:30 pm |
| Wednesday | Closed |
| Thursday | 9:00 am - 6:30 pm |
| Friday | 9:00 am - 5:30 pm |
| Saturday | 9:00 am - 4:00 pm |
| Sunday | Closed |
| | | | |
| --- | --- | --- | --- |
| December | | | |
| Open Sunday's | | 12:00PM - 4:00PM | |
| June & July | | | |
| Open Saturday's | | 9:00AM - 1:00PM | |
Labor Day Weekend
Friday, Sept. 4
9:00 am - 5:30 pm
Saturday, Sept. 5
9:00 am - 4:00 pm
Sunday, Sept. 6
Closed
Monday, Sept. 7
Closed
Norfolk Inside of Kings Lanes
Thu, Oct. 1
5:00 pm - 8:00 pm
Sat, Oct. 3
7:00 pm - 9:00 pm
Sun, Oct. 4
10:00 am – 2:00 pm
Thu, Oct. 15
5:00 pm - 8:00 pm
Sat, Oct. 17
7:00 pm - 9:00 pm
Sun, Oct. 18
10:00 am – 2:00 pm
Sat, Oct. 24
7:00 pm - 9:00 pm
Sun, Oct. 25
10:00 am – 2:00 pm
Thu, Nov. 12
5:00 pm - 8:00 pm
Sat, Nov. 14
7:00 pm - 9:00 pm
Sun, Nov. 15
10:00 am – 2:00 pm
Thu, Dec. 3
5:00 pm - 8:00 pm
Sat, Dec. 5
7:00 pm - 9:00 pm
Sun, Dec. 6
10:00 am – 2:00 pm
Thu, Dec. 17
5:00 pm - 8:00 pm
Sat, Dec. 19
7:00 pm - 9:00 pm
Sun, Dec. 20
10:00 am – 2:00 pm
Columbus Inside Westbrook Lanes
Thu, Oct. 8
5:00 pm - 8:00 pm
Sat. Oct. 10
6:30 pm - 8:00 pm
Sun. Oct. 11
12:00 pm - 2:00 pm
Thu, Oct. 22
5:00 pm - 8:00 pm
Thu, Nov 5
5:00 pm - 8:00 pm
Thu, Nov 19
5:00 pm - 8:00 pm
Sat, Nov. 21
6:30 pm - 8:00 pm
Thu, Dec. 10
5:00 pm - 8:00 pm
Sat, Dec. 12
6:30 pm - 8:00 pm