celebrating
40 years in business
We are excited to be celebrating our 40th year in business. To celebrate we will be giving away bowling equipment as a THANK YOU for the support over the decades.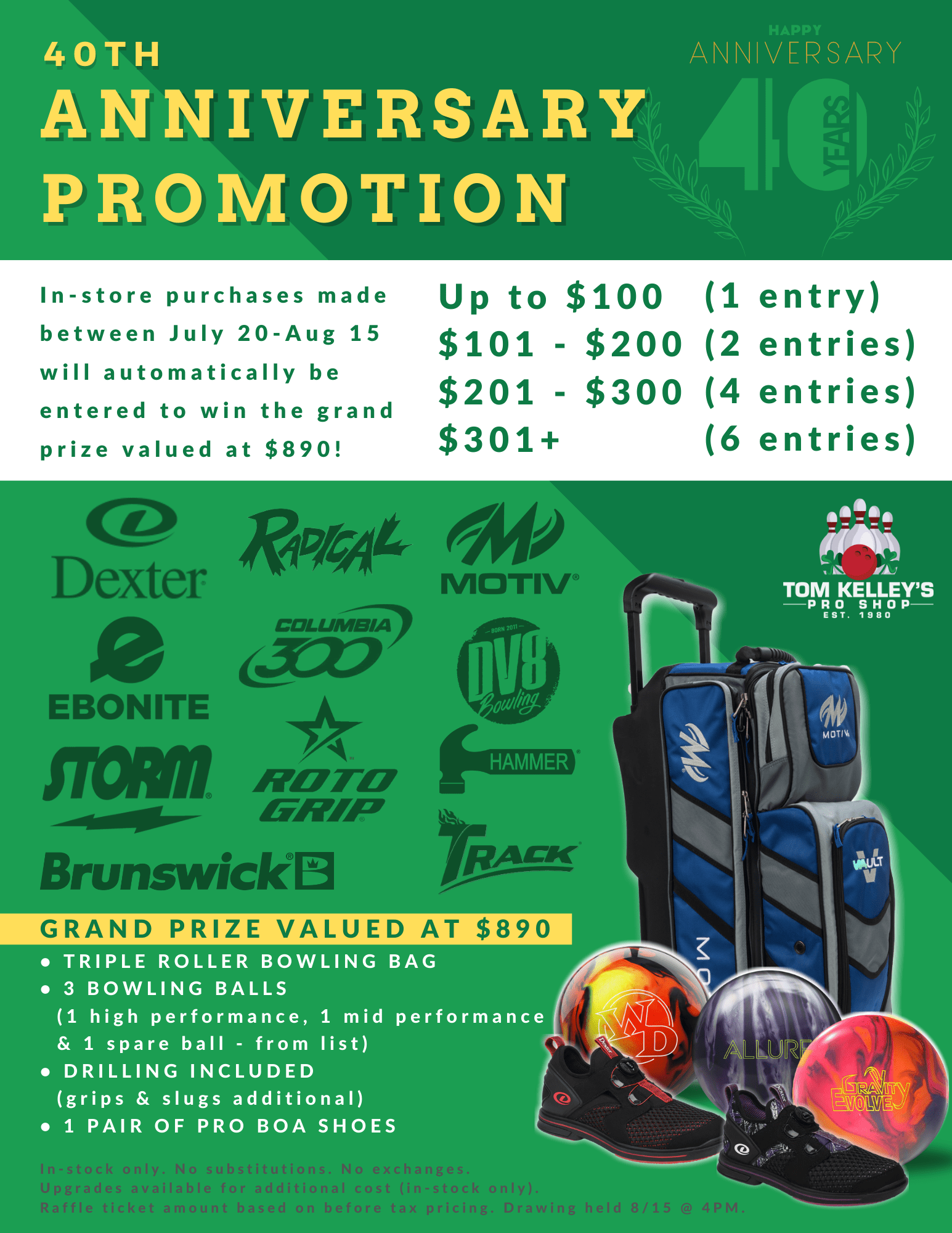 The winner will choose from:
High Performance Bowling Ball (worth $269):
Brunswick - Prism Warp
Columbia - Authority
Ebonite - Omni
Hammer - Redemption (solid or pearl)
Motiv - Trident Nemesis
Radical - Zing
Roto - UFO
Storm - Gravity Evolve
Track - Proof
DV8 - Notorious
Mid Performance Bowling Ball (worth $199):
Brunswick - Uppercut
Columbia - Outlook
Dv8 - Verge
Ebonite - Allure
Hammer - Fugitive
Motiv - Rogue Assassin
Radical - Squatch (solid, pearl or hybrid)
Roto - Wild Streak
Storm - Purple Pitch
Track - Latitude
Columbia - White Dot
Ebonite - Maxim
Motiv - Vault Triple Roller (blue/gray/black)
Pro Boa - RH only with interchangeable sole
(women's black/purple - men's black/red)
•••••
Based on new purchases starting Monday, July 20th. Drilling & fit included - grips & slugs are additional. In-stock only. No substitutions. No exchanges. Upgrades available for an additional cost (in-stock only). Raffle ticket amount based on before tax pricing. Drawing held 8/15 @ 4:00 pm via Facebook Live.